Sailboat Angelica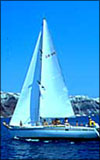 Sailboat Angelica is a perfect opportunity to try ones hand at practical sailing. Second boat in Santorini Sailing Center's fleet, the Angelica can tackle both long and short distance sailing. Become part of our crew!

Opportunities to cruise inshore waters, the island of Santorini, the volcano, Thirasia and Anafi. Best time of the day is surely sunset when the sky is streaked in ribbons of crimson and gold.

And that's just for starters!